Missions på norsk – Kunnskapsgrunnlagskonferansen 2020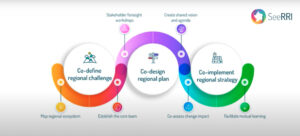 SeeRRI presented the Nordland case at the Missions in Norwegian online conference organised by the Research Council of Norway on 25 November 2020.
This event explored various missions in research and innovation policy that are underway in Norway and are central to the design of the EU Horizon project.
At the session exploring how to choose and implement missions, Nhien Nguyen from the Nordland Research Institute made a presentation on behalf of the SeeRRI project called "Nordland: an approach to co-creating regional planning strategy".
She set out the case of Nordland and the mission of the SeeRRI project in the region: developing a responsible regional planning strategy together with quadruple helix stakeholders. Nhien illustrated the SeeRRI project approach to building self-sustainable RRI eco-systems.
The presentation explained the challenge of responsible coastal management and outlined the issues and possible strategies for achieving success.
Have a look at Nhien's presentation here: