Conference videos and presentations now available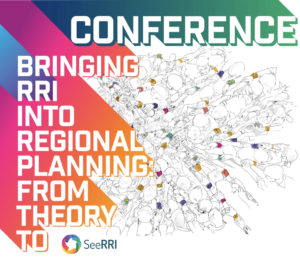 The SeeRRI Final Conference, which took place the 29th and 30th of September in Barcelona, received more than 100 participants from a variety of EU countries, including stakeholders from the quadruple-helix – government (regional authorities), business (economic cluster and SMEs), academia (research institutes and universities), and civil society.
The conference counted with a total of 29 speakers, including the SeeRRI advisory board and stakeholders from the Catalonia Government, the European Commission, academic institutions, representatives from the civil society, business and other EU territories RRI projects. Developing territorial cases interventions, expert talks, discussions and workshops, the SeeRRI outcomes were visible from a variety of viewpoints picturing the project's impact in every sector.
If you were not able to be part of the conference or missed any session, you can navigate through all the conference's agenda in the now live website to watch videos, presentations, photos, the Artwork exhibition, and posters from other SwafS-14 projects that were exhibited at the event.