SeeRRI Final Conference: Bringing RRI into regional planning, from theory to SeeRRI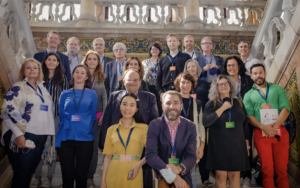 The two-day conference took place in Barcelona at Casa de Convalescència, of the Universitat Autònoma de Barcelona, from the 29th to the 30th of September, 2021, to mark the conclusion of the SeeRRI project and showcase its results.
SeeRRI partners and guest speakers representing the quadruple helix – government (regional authorities), business (economic cluster and SMEs), academia (research institutes and universities), and civil society – participated with their approaches under three main topics: Designing responsible regional planning for sustainability: The SeeRRI Way, Understanding EU regional contexts, and The future of RRI in regional planning.
Between the results and discussions that took place during the event, Dr. Nhien Nguyen, the coordinator of SeeRRI, displayed a graphic representation of the SeeRRI Implementation Pathway, one of the key outcomes of the project. The SeeRRI Implementation Pathway explains the multiple parallel activities that need to be followed under the SeeRRI co-creation model to resolve the challenges faced by territories in their quest to build self-sustaining research and innovation ecosystems in Europe through Responsible Research and Innovation.
The event also had the participation of Josep Monràs, president of the B30 Association and Mayor of Mollet del Vallès, a location within the B30 territory, and Javier Lafuente Sancho, rector of the Universitat Autònoma de Barcelona (UAB), who introduced the B30 Innovation Hub, one of the B30 projects that has implemented the SeeRRI Way and reached successful results in terms of introducing RRI into their R&I activities.
The SeeRRI Way is a collaborative process where stakeholders from the quadruple helix work together to share the responsibility of developing and implementing regional innovation strategies focused on shared interests. While the SeeRRI project has been using three specific European regions as testbeds for experimenting with regional planning processes, the tools generated by the project can be used by any territory that wishes to strengthen RRI and make their regional planning more responsible and inclusive.