Third dialogue of #ResponsibleRegions (21 January 2021)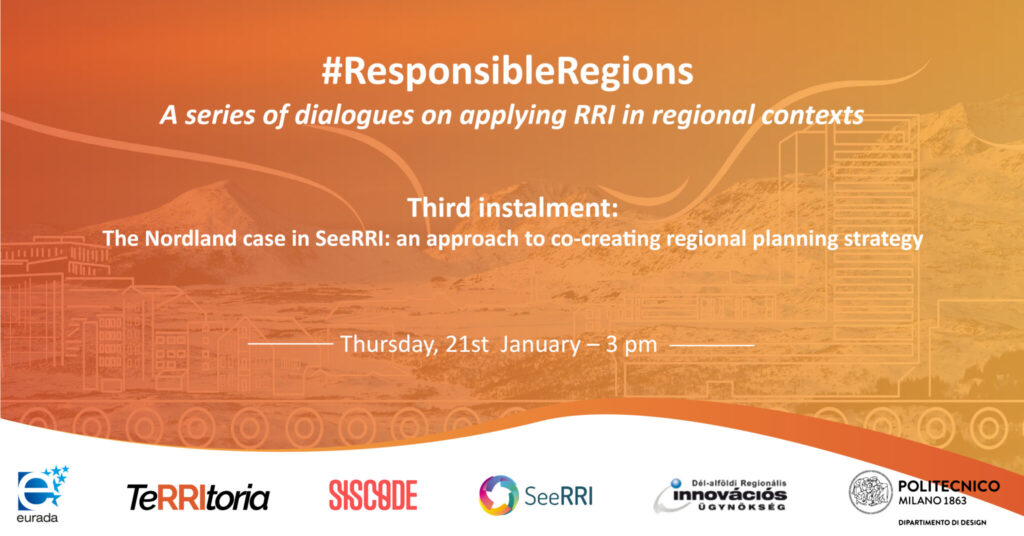 SeeRRI at #ResponsibleRegions – third dialogue
14.45 –15.00
Registration/ZOOM Connection
15.00 – 15.10
Opening speech by Esteban Pelayo – Director of EURADA
15.10 – 15.35
The Nordland case in SeeRRI: an approach to co-creating regional planning strategy.

Nhien Nguyen – Associate Professor at the Norwegian University of Science and Technology @NTNU – Senior Researcher at Nordland Research Institute

15.35 – 15.50
Short Q&A session
15.50 – 15.55
Contribution from Tamás Gyulai, Darinno – Regional Innovation Agency of South Great Plain
15.55 – 16.00
Contribution from Alessandro Deserti, Professor at Politecnico di Milano and project coordinator of H2020 SISCODE project.
16.00 – 16.30
Debate and opportunities on RRI
Time: 14:45 to 16:30
Zoom
The SeeRRI project will be an active participant at the Third Dialogue of the #ResponsibleRegions cycle of webinars focused on applying RRI in regional contexts which will take place on 21 January.
Organised by EURADA and the TeRRItoria project, this is the latest event in a series of monthly webinars exploring the concepts of Smart Specialisation Strategy and Responsible Research and Innovation. The purpose is to bring together regional development agencies and local actors in order to share their valuable experience in applying S3 and RRI in regional polices and practices.
The title of the third instalment is "The Nordland case in SeeRRI: an approach to co-creating regional planning strategy". SeeRRI partner and Senior Researcher at Nordland Research Institute, Nhien Nguyen will present the activities rolled out by the SeeRRI project in the Nordland territory centred on co-creation strategies.
This event is a great opportunity for discussion and debate on developing and adapting strategies for regional development, where the people directly involved take the floor to share their experience and then put their heads together to sound out further opportunities for RRI development.
Sign up for the webinar here.
Lower Austria 2rd and 3rd stakeholder workshops (2 and 3 July 2020)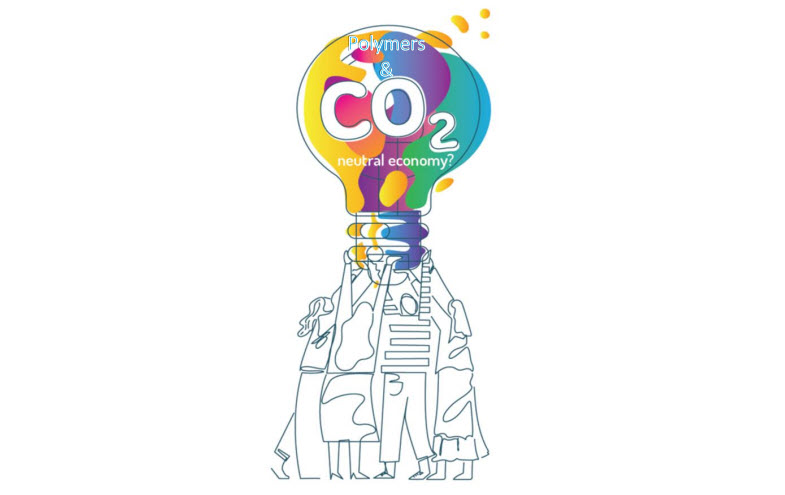 Polymer Industry in Lower Austria
Polymer Industry in Lower Austria, so that the polymer industry in Lower Austria can make significant contributions to reduce C02 emission, to an environmentally friendly production, to saving resources. This should be achieved by research, development, production under consideration of the whole value chain globally.
Time: 09:30 to 18:10
Wildkräuterhotel Steinschalerhof, Warth 20, 3203 Rabenstein/Pielach
Based on the environmental analysis of the polymer sector in Lower Austria during the workshop on 18th February 2020 the key factors are developed. These key factors build the starting point of these workshops in July.
The participating stakeholders will develop various futures for these key factors and work out scenarios for the polymer sector under consideration of responsible research and innovation approach (RRI). The idea is to consider and shape the research, innovation and economic system with its effects on society. Representatives of the innovation system (actors from science, business & industry, public authorities and representatives of the civilian population) will jointly develop future scenarios.
Wildkräuterhotel Steinschalerhof, Warth 20, 3203 Rabenstein/Pielach
Lower Austria 1st stakeholder workshops (18 February 2020)
How can we contribute to new designs of Research, Development and Innovation by the plastic industries in Lower Austria (and their value chains networks) to achieve a CO2 neutral economy?
Time: 09:30 to 17:00
Hotel Metropol, Schillerplatz 1, 3100 St. Pölten
Co-organisers
Ecoplus. The Business Agency of Lower Austria
Three stakeholder workshops work out future scenarios and derive consequences with regard to RRI in each territory. The first workshop is about the environmental analysis of the plastic industry and its contribution to a CO2 neutral economy.
By interest, please, contact harald.bleier@ecoplus.at
Hotel Metropol, Schillerplatz 1, 3100 St. Pölten
B30 2nd stakeholder workshops (14 February 2020)
Articulating shared agendas for the Transition of the B-30 Area to the circular economy. Strenghtening connections between actors to contribute to the sustainability and responsibility of the research and innovation ecosystem.
Time: 09:00
Casa Convalescència, Barcelona, Spain.
Casa Convalescència, Barcelona, Spain.
Project meeting – General Assembly (13 February 2020)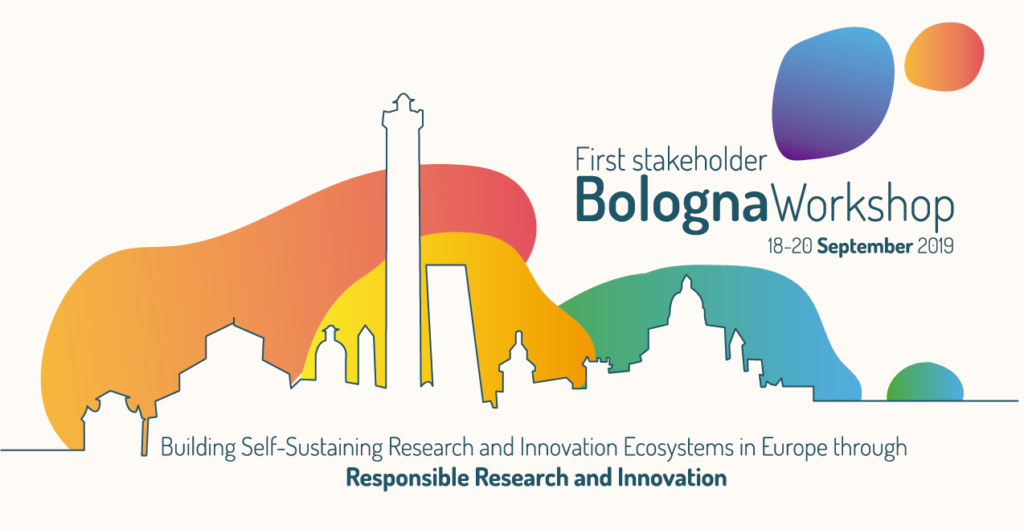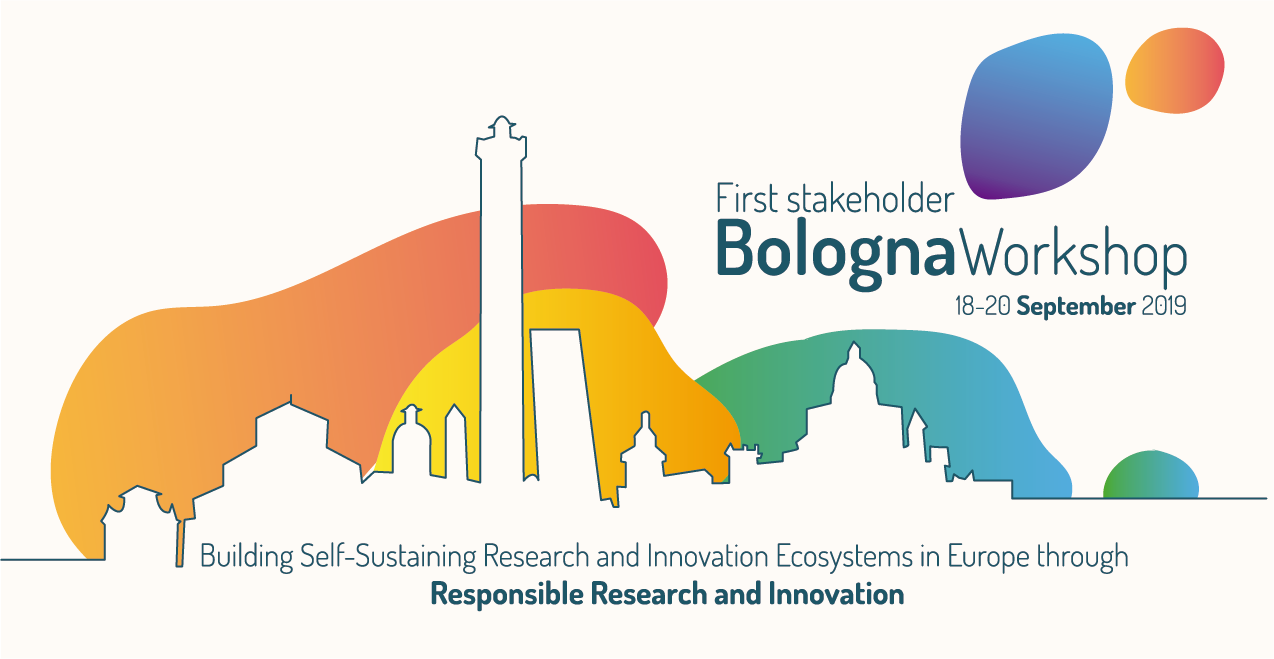 First stakeholder Bolongna Workshop
Time: 09:00
Via Luigi Farini, 15, 40124 Bologna BO, Italia
Co-organisers
Fondazione Carisbo
SeeRRI's first stakeholder workshop was successfully held in Bologna, Italy, on September 18-20, 2019. The event was hosted by the University of Bologna (UNIBO).
One of the main activities of the SeeRRI project is to organize stakeholder workshops in the three pilot territories: Nordland, B30, and ecoplus. In Bologna, the groundwork was laid for identifying key actors in the R&I ecosystems. The results of an initial mapping exercise were presented, and workshop participants worked together to narrow down the range of potential stakeholders to involve in future workshops as well as to select relevant influencing factors in the regional ecosystems.
RRI facilitator training workshops (12 February 2020)

Science for Citizens: how science meets regions and cities
Time: 14:30
The Square
Co-organisers
Cristina MARCONE (REA – B5) - leader
Colombe WARIN (REA – B5)
Stijn VERLEYEN (JRC)
This workshop aims first to explore and demonstrate the potential of engaging citizens and decision-makers with science to address the challenges European regions and cities are facing. It will give an overview on 'citizen science' and its contribution to science, society and evidence-based policy making through providing examples of successful projects. 'EU-Citizen.Science', funded by the European Commission, under the Horizon 2020 'Science with and for Society' programme, aims to mainstream citizen science in Europe and present how cities and their citizens can already benefit from their outcomes.
We will also present the initiative 'Science meets Parliaments & Regions', which brings researchers and decision-makers together, and enhances the role of science in the policy-making process across fields at local, regional and European level. We will describe an innovative tool for co-creation of public policies involving the quadruple helix (government, academia, business and civil society) in order to produce sound solutions to local issues.
Finally, the workshop will showcase new ways of co-creation with multi-stakeholders in the process of developing Regional Research and Innovation strategies. SeeRRI, project funded by the European Commission, focuses on establishing responsible research & innovation ecosystems by integrating Smart Specialisation Strategy and RRI. TeRRItoria tackles a double challenge by bringing RRI at the forefront of the debate for developing local and regional R&I capacities and using RRI as a springboard for stakeholder involvement in regional R&I strategies under the framework of Smart Specialisation Strategies.
Space for debate with the audience will be devoted during the second half of the session.
Details: https://europa.eu/regions-and-cities/programme/sessions/605_en

This project has received funding from the European Union's Horizon 2020 research and innovation programme under grant agreement nº 824588.