NewHoRRIzon Final Conference – 20 May 2021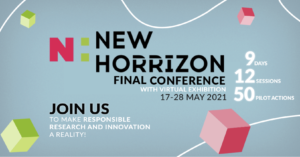 The SeeRRI project is taking part in a Virtual Poster Session organised by NewHoRRIzon starting at 10am on Thursday 20 May.
A H2020 project dedicated to further integrating RRI into research and innovation systems, NewHoRRIzon will host this special online conference aimed at showcasing ongoing RRI projects and creating networking and exchange opportunities for the European and global R&I community.
The programme includes breakout sessions where participants can learn more about specific projects. SeeRRI coordinator Nhien Nguyen will lead one of the breakout rooms and present a poster on the project's research. All of the posters of the various RRI projects will be on display during and after the conference on the virtual platform (RRI.EX).
Speakers will reflect on the current status of RRI and future opportunities and discuss how projects can learn from one another and work together.
You can register for the event here: