RRI and regional development: common dilemmas, different approaches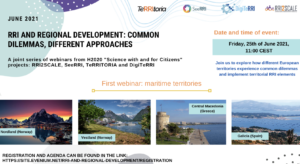 On Friday 25th of June, 4 H2020 SwafS (Science with and for Citizens) projects are coming together under a joint series of three webinars with the title "RRI and regional development: common dilemmas, different approaches". The participating projects are TeRRItoria, SeeRRI, RRI2SCALE and DigiTeRRI, and in this unique series of webinars they will showcase how regions and territories across Europe share common regional challenges in Research and Innovation, and despite their commonalities, deal with them under a different approach.
In particular, "RRI and regional development: common dilemmas, different approaches" is dealing with the concepts of regional dilemmas and Responsible Research and Innovation. The series is bringing together European territories from the four projects, while each webinar is being devoted to a different family of territories which share common regional dilemmas, as well as similar socio-economic and geographic characteristics. The aim of the series is to connect policy-makers and experts from the territories to share their insights on how the same dilemmas and local challenges are experienced differently, as well on how RRI elements are territorially implemented to overcome them.
The first webinar will take place on Friday the 25th of June, at 11:00 CEST. The topic of this event is "Maritime territories: common dilemmas, different approaches". The participatins territories are Nordland (SeeRRI), Central Macedonia (TeRRItoria), Vestland (RRI2SCALE) and Galicia (RRI2SCALE). The webinar is organised in two parts:
In the first part, three general challenges will be discussed in relation to territorial Research and Innovation: (i) how R&I impacts the sustainable use of regional maritime resources, (ii) how R&I affects depopulation and high urbanization levels in the region, and (iii) how maritime territories can promote responsible innovation in sectors that remain unsustainable. The speakers will reveal how these challenges unfold in a unique way within each territory, and what are the major risks in each regional context.
In the second part, the speakers will openly exchange good practices of how their territories adopt and apply key elements of RRI (governance, gender equality, public engagement, ethics, open access, science education) to overcome the challenges and deliver sustainable and responsible innovation governance structures. The sessions will be organised as quick round-tables of peer-exchange on knowledge and local experience, with a view to strengthen the bonds between remoted European territories, facilitate the flow of knowledge, and open new policy pathways to confront pressure challenges.
Registration link and full agenda for the event: https://site.evenium.net/rri-and-regional-development/registration