Triple Helix Summit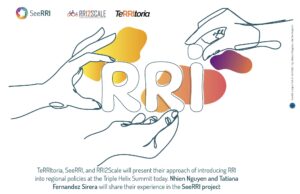 The third international Triple Helix Summit was held as a virtual congress from 24 to 26 November 2020.
Leading figures from science, industry and politics discussed the challenges posed by the COVID-19 pandemic and other pressing issues. Solutions were debated on how to address these challenges via digital and sustainable innovation under the motto "Designing globally connected regional innovation ecosystems".
The event included panels, workshops and sessions for academic works and presentations of practical cases. Triple Helix players from European and international ecosystems contributed to the summit. Among these, SeeRRI, RRI2scale and TeRRitoria presented their approach to introducing RRI into regional policies.
SeeRRI partners took part in the workshop on "Introducing RRI principles to enhance regional innovation policies, including RIS3". Tatiana Fernandez, who coordinates the Research and Innovation Strategy for the Smart Specialisation of Catalonia (RIS3CAT), and Nhien Nguyen, Senior Researcher at the Nordland Research Institute, talked about their experience with the SeeRRI project and how good RRI practices can be rolled out to the benefit of regional policies.