SeeRRI workshop in Bologna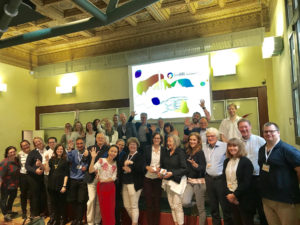 SeeRRI's first stakeholder workshop was successfully held in Bologna, Italy, on September 18-20, 2019. The event was hosted by the University of Bologna (UNIBO).
One of the main activities of the SeeRRI project is to organize stakeholder workshops in the three pilot territories: Nordland, B30, and ecoplus. In Bologna, the groundwork was laid for identifying key actors in the R&I ecosystems. The results of an initial mapping exercise were presented, and workshop participants worked together to narrow down the range of potential stakeholders to involve in future workshops as well as to select relevant influencing factors in the regional ecosystems.
The agenda also included other activities of importance to SeeRRI going forward. The overall SeeRRI framework was debated in order to establish a shared understanding of the project among the partners; plans for exploiting the results of SeeRRI were discussed; and a training session was held for the RRI facilitators of SeeRRI's member institutions. Throughout the event, emphasis was placed on involving all participants in collaborative work, and the sessions were characterized by lively yet constructive discussions.
44 participants attended the workshop. In addition to delegates of SeeRRI's 12 partner institutions, the attendees included four members of SeeRRI's Strategic Advisory Board (SAB) as well as representatives from four other EU-funded RRI-related projects – TeRRItoria, TeRRIFICA, MARIE, and ROSIE – who had been invited in order to share experiences across projects and discuss possibilities for working together to make a bigger impact in the future. The SeeRRI consortium and the invited guests were fortunate to be at the oldest university in the world still in operation – a great setting for discussing how to be responsible when co-creating the future of EU regions through research and innovation.