2nd and 3rd Lower Austria Stakeholder Workshops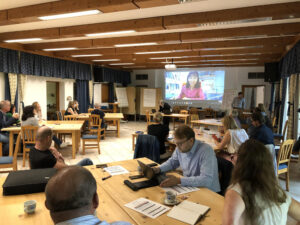 SeeRRI organised its second and third stakeholder workshops for Lower Austria on 2 and 3 July 2020.
Held in Rabenstein, Austria, the focus of these workshops was the polymer industry in Lower Austria. The goal was to figure out how the industry can make significant contributions towards reducing CO2 emissions, creating an environmentally-friendly production system and saving resources.
The first stakeholder workshop held on 18 February 2020 had identified the key factors of the project via an environmental analysis of the polymer sector in Lower Austria. So, these July workshop discussions took their cue from there to investigate these key factors and develop future scenarios.
Over the two days, the stakeholders imagined various different futures for the key factors and worked out scenarios for the polymer sector to implement a responsible research and innovation approach (RRI). The core idea was to consider and shape the research, innovation and economic system, including its effects on society.
Local representatives of the innovation system took part. These included people from the world of science, business and industry, along with public authorities and members of the local population. Together they developed several future scenarios that could enable the polymer industry to reduce its emission of C02 and introduce production methods that are environmentally friendly while also conserving precious natural resources.
https://www.youtube.com/watch?v=WI9lYWBxWyo&feature=youtu.be