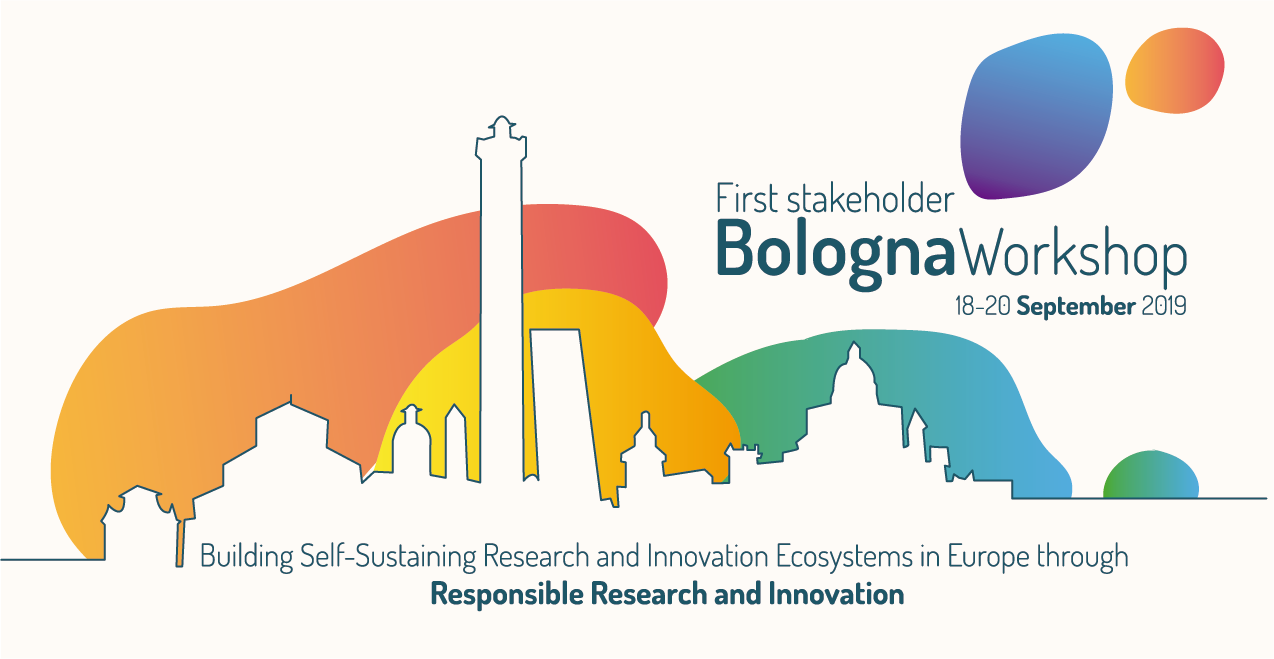 Responsible research and innovation (RRI) is an approach that anticipates and assesses potential implications and societal expectations with regard to research and innovation, with the aim of fostering the design of inclusive and sustainable research and innovation.
RRI implies that societal actors – researchers, citizens, policymakers, businesses, public sector organisations, etc. – work together during the entire research and innovation process in order to better align both the process and its outcomes with the values, needs, and expectations of society.
In practice, RRI is implemented as a package that includes multi-actor and public engagement in research and innovation, enabling easier access to scientific results, the take-up of gender and ethical issues in the research and innovation content and process, and formal and informal science education. (Source: https://ec.europa.eu/programmes/horizon2020/en/h2020-section/responsible-research-innovation)
Further information on RRI can be found on these websites:
SeeRRI quadruple-helix partners:
The SeeRRI consortium is a balanced, complementary, and transdisciplinary team with rich experience to draw on in achieving the objectives and vision of SeeRRI. The consortium consists of 12 partner institutions from three EU member states (Austria, Spain, Italy) and two associated countries (Norway, Israel). All of the "quadruple helix" is represented in the consortium: government (several regional government bodies), businesses (SMEs, an economic cluster), academia (research institutes, universities), and civil society (a confederation of enterprises). The partner institutions have been selected so that their combined expertise and capabilities meet the varied needs raised by the call.
RIS3 Research and Innovation Strategy for Smart Specialization
The European Commission (EC) has high ambitions toward their policies regarding Research and Innovation Strategy for Smart Specialization (RIS3) (Gheorghiu et al. 2016). These strategies are aiming at three "mutually reinforcing priorities" of smart, sustainable, and inclusive economic growth in Europe (EC 2010).
In general, RIS3 represent an ex-ante precondition for receiving monetary support from European structural funds. Thus, most nations and regions in Europe are designing and implementing smart specialisation methods in their research, development, and innovation policies.
Because of the high demand, guidelines to develop and implement RIS3 have been provided (e.g., Fellnhofer, 2017; Kroll 2015a; Gheorghiu et al. 2016; Foray et al. 2011, 2012; Foray 2014, 2015). In particular, the "Guide to Research and Innovation Strategies for Smart Specialisation (RIS3), Smart Specialisation Platform" (Foray et al. 2012) delivers a valuable description with six steps and 18 sections for developing research and innovation strategies for smart specialisation.
SeeRRI establishes a foundation for building self-sustaining Research and Innovation (R&I) ecosystems in Europe by developing a framework for integrating the Responsible Research and Innovation (RRI) approach into regional development policies in three European territories: the B30 Area (Spain), the Polymer and Mechatronic Cluster (Austria), and Nordland Region (Norway). To achieve the goal of self-sustainability, SeeRRI ecosystems are designed to be adaptive, resilient, reproducible, continuously learning, and open or closed when needed.
With 12 quadruple-helix partners representing government authorities, clusters and SMEs, academia, and civil organization, SeeRRI will build an integrated framework based on literature review and co-creation with the relevant stakeholders. By mapping the territorial R&I ecosystems, SeeRRI will understand the supporting conditions for R&I and identify the stakeholders who will be involved in formulating a variety of scenarios for building a self-sustaining ecosystem in their territories. The engaged stakeholders will gain awareness and insights while participating in creative collaboration using workshops and open labs, and will thus function as multipliers and promote RRI principles in their territories and beyond. The input from stakeholders will contribute to defining and validating a framework for self-sustaining R&I ecosystems developed by the project team, which will generate concrete activities to be implemented.
Furthermore, SeeRRI will evaluate the activities carried out in the pilot territories and assess their impact at the EU level, offer concrete guidelines for policies, and suggest conditions and governance structures for the R&I ecosystems with a roadmap tool identifying RRI openings in the Smart Specialisation process.
Funding organization
H2020-Swafs 14/2018
Timeframe
January 2019 – June 2021
Funding amount
2,031,612.50 €
Coordinator
Nordland Research Institute (NRI)
Partners
The SeeRRI Consortium is a balanced, complementary and transdisciplinary team formed by12 organisations from three European Member States (Austria, Spain and Italy) and two Associated Countries (Norway and Israel), interacting with an extensive network of Stakeholders from 3 selected territories that will provide relevant feedback at several stages of the project. The partners come from all quadruple-helix actors, government (regional authorities), business (economic cluster and SMEs), academic (research institutes and universities), and civil societal organisation (confederation of
Nordland Research Institute (NRI)
Austrian Institute of Technology (AIT)
The INNAXIS Foundation and Research Institute (INX)
WeDo | Project intelligence made easy (WeDo)
Research and Innovation Management GmbH (RIM)
University of Haifa (UH)
University of Bologna (UNIBO)
Universitat Autònoma de Barcelona (UAB)
Regions
Generalitat de Catalunya (GENCAT)
Ecoplus Niederösterreichs Wirtschftsagentur (ECOPLUS)
Nordland County (NCC)
NHO Nordland (NHO)

This project has received funding from the European Union's Horizon 2020 research and innovation programme under grant agreement nº 824588.