First stakeholder Bolongna Workshop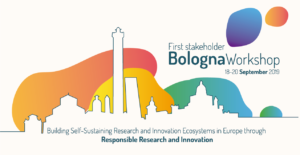 SeeRRI's first stakeholder workshop was successfully held in Bologna, Italy, on September 18-20, 2019. The event was hosted by the University of Bologna (UNIBO).
One of the main activities of the SeeRRI project is to organize stakeholder workshops in the three pilot territories: Nordland, B30, and ecoplus. In Bologna, the groundwork was laid for identifying key actors in the R&I ecosystems. The results of an initial mapping exercise were presented, and workshop participants worked together to narrow down the range of potential stakeholders to involve in future workshops as well as to select relevant influencing factors in the regional ecosystems.